The 2017 VHPA national reunion will be in Indianapolis, IN 1 - 6 July 2017 at the JW Marriott Hotel.
Register for the reunion at https://reunion.vhpa.org/ as is our tradition, registration became active on 15 December.


For hotel reservations, please call Passkey Reservations: 866-704-6162 or 877-303-0104
Mention "VHPA 34th Annual Reunion 2017"

or online at https://resweb.passkey.com/go/VHPAIndy


PLEASE DO NOT CALL THE HOTEL DIRECTLY OR MARIOTT'S CENTRAL RESERVATIONS NUMBERS.

Room rates are $119 + tax over these dates of 27 June – 8 July 2017
(Cutoff date for VHPA hotel rate is June 1, 2017)
Parking:
The VHPA hotel parking discount is 20% off of $43 per day or about $35. Parking is very limited around the hotel and government buildings nearby so we have negotiated better rates with a nearby parking lot called GATE TEN parking. Please see the
attached flyer for details
. So if you need access to your vehicle frequently during the day - parking in the underground hotel parking garage might be right for you but plan on about $35 per day. Everyone else should consider
GATE TEN
. It is within walking distance for most people but they also have a shuttle. Additionally, they offer discounts off their daily rate based on the number of days. Notice you could even park an RV there!!
Recommended shuttle service to and from the airport to the hotel is GO Express Travel Select the Go Green downtown Indy Expressfor $10 one way.
Official Schedule for the 2017 reunion in Indianapolis.
Everything you need to know about the 2017 Indianapolis reunion.
Getting there and other reunion details
Discount zoo tickets have to be ordered online as described in this brochure.
Reunion details in our magazine, The VHPA Aviator, the January/February 2017 reunion issue (big file).
Reunions are a great opportunity to meet with your unit or flight class group away from the masses. We provide dedicated private space for your reunion within the reunion. To reserve space please use this Mini Reunion request form and Mini Reunion Schedule
We need Volunteers! Each year we rely very heavily on volunteers to help with the reunion. If you are able and willing to help, please fill out aVolunteer Form Here is the Volunteer Schedule.
NEW!! Ride at a Gallop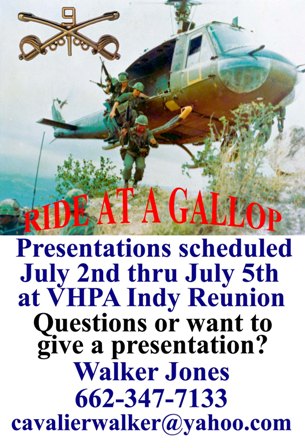 Added to the reunion schedule in early April, Ride at a Gallop is a collection of historical presentations, DVD showings, and seminar type discussions given over a multiple day period primarily for those who served in or have interests in the 1/9th Cavalry in Vietnam. In addition to having a dedicated hospitality room (3rd floor room 306) for the duration of the Reunion from 1 pm until about 4 pm daily, the VHPA will provide a section of the main ballroom to the 1/9th Cav for PowerPoint presentations, showing video clips, and having focused discussions. This area is open to anyone attending the Reunion and can accommodate 500 if needed. The goal is several short (15 - 25 minute) sessions each day and to let each troop have at least one slot per day. Here is a summary of Ride at a Gallop activities
Walker Jones is in charge of the Ride at a Gallop activities. Please contact Walker at 662-347-7133 or cavalierwalker@yahoo.com if you have something to contribute to these activities.
These activities are free and everyone is invited to attend. This is NOT limited to pilots. All are welcome to attend. All you have to do is register for the reunion. Here is an invitation to Ride at a Gallop.
Click here for a comprehensive packet of Ride at a Gallop activities and information This includes all you need to know to register for the reunion. We hope to see you there.
2017 Vendor, Book Seller & Exhibitor Information
RV Parks near the JW Marriott Hotel
Annual Reunion Registration, Cancellation and Refund Policy.

The 2017 National Reunion Morning Report